Пакет: devede (4.8.0-1+9.0trisquel1)
Връзки за devede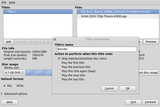 Ресурси за Trisquel:
Изтегляне на пакет-източник devede.
Отговорник:
Original Maintainers:
Външни препратки:
Подобни пакети:
simple application to create Video DVDs
DeVeDe is a program to create video DVDs, suitables for home players, from any number of video files, in any of the formats supported by Mplayer.
It allows user to create subtitles and even menus.
Други пакети, свързани с devede
Изтегляне на devede
Изтегляне за всички налични архитектури

| Архитектура | Големина на пакета | Големина след инсталиране | Файлове |
| --- | --- | --- | --- |
| all | 1 386,2 кБ | 3034 кБ | [списък на файловете] |