Пакет: fonts-croscore (20200323-1build1~ubuntu20.04.1+9.0trisquel1)
Връзки за fonts-croscore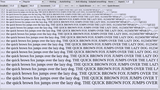 Ресурси за Trisquel:
Изтегляне на пакет-източник fonts-noto.
Отговорник:
Original Maintainers:
Външни препратки:
Подобни пакети:
width-compatible fonts for improved on-screen readability
This package contains a collections of fonts that offers improved on-screen readability characteristics and the pan-European WGL character set and solves the needs of developers looking for width-compatible fonts to address document portability across platforms.
Arimo, Cousine and Tinos were designed by Steve Matteson as innovative and refreshing designs that are metrically compatible with Arial, Courier New and Times New Roman, respectively.
Други пакети, свързани с fonts-croscore
Serif font metric-compatible with the Cambria font

Sans-serif font metric-compatible with Calibri font
Изтегляне на fonts-croscore
Изтегляне за всички налични архитектури

| Архитектура | Големина на пакета | Големина след инсталиране | Файлове |
| --- | --- | --- | --- |
| all | 2 088,9 кБ | 5941 кБ | [списък на файловете] |