[ etiona ]
Пакет: knode (4:4.14.10-7)
Връзки за knode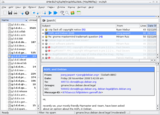 Ресурси за Trisquel:
Изтегляне на пакет-източник kdepim4.
Отговорник:
Original Maintainers:
Външни препратки:
Подобни пакети:
graphical news reader
KNode is an easy-to-use, convenient newsreader. It is intended to be usable by inexperienced users, but also includes support for such features as MIME attachments, article scoring, and creating and verifying GnuPG signatures.
This package is part of the KDE PIM module.
Други пакети, свързани с knode