Пакет: icecast2 (2.4.4-3ubuntu0.1)
Връзки за icecast2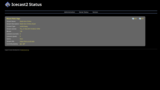 Ресурси за Trisquel:
Изтегляне на пакет-източник icecast2.
Отговорник:
Original Maintainers:
Външни препратки:
Подобни пакети:
streaming media server
Icecast is a versatile multimedia streaming server which can create (for instance) a private jukebox or "Internet radio station". It supports Ogg streaming using the Vorbis and Theora codecs, as well as other formats such as MP3, AAC, or NSV, and is compatible with most media players.
Други пакети, свързани с icecast2
sug:

ices2

Ogg Vorbis streaming source for Icecast 2
Изтегляне на icecast2
Изтегляне за всички налични архитектури

| Архитектура | Големина на пакета | Големина след инсталиране | Файлове |
| --- | --- | --- | --- |
| armhf | 1 275,4 кБ | 1928 кБ | [списък на файловете] |