Paket: xfce4-pulseaudio-plugin (0.4.1-0ubuntu1)
Links für xfce4-pulseaudio-plugin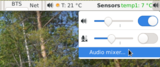 Trisquel-Ressourcen:
Quellcode-Paket xfce4-pulseaudio-plugin herunterladen:
Betreuer:
Original Maintainers:
Externe Ressourcen:
Ähnliche Pakete:
Xfce4 panel plugin to control pulseaudio
Xfce4 panel plugin icon to control Pulseaudio. You can use this applet to control your Pulseaudio volume levels with the media keys or using the scrollwheel. You can also open a Pulseaudio mixer via the plugin.
Andere Pakete mit Bezug zu xfce4-pulseaudio-plugin
xfce4-pulseaudio-plugin herunterladen