Paket: software-properties-gtk (0.98.9.2)
Links für software-properties-gtk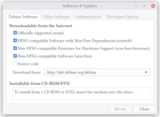 Trisquel-Ressourcen:
Quellcode-Paket software-properties herunterladen:
Betreuer:
Original Maintainer:
Ähnliche Pakete:
manage the repositories that you install software from (gtk)
This software provides an abstraction of the used apt repositories. It allows you to easily manage your distribution and independent software vendor software sources.
This package contains a GTK+ based graphical interface.
Andere Pakete mit Bezug zu software-properties-gtk
dep:

dconf-gsettings-backend

Paket nicht verfügbar

oder gsettings-backend

Paket nicht verfügbar

dep:

gir1.2-goa-1.0 (>= 3.27.92-1ubuntu1)

Paket nicht verfügbar

dep:

gir1.2-gtk-3.0

Paket nicht verfügbar

dep:

gir1.2-snapd-1 (>= 1.42)

Paket nicht verfügbar

dep:

libgtk3-perl

Paket nicht verfügbar

dep:

python3

Paket nicht verfügbar

dep:

python3-dateutil

Paket nicht verfügbar

dep:

python3-distro-info

Paket nicht verfügbar

dep:

python3-gi

Paket nicht verfügbar

dep:

python3-requests-unixsocket

Paket nicht verfügbar

dep:

python3-software-properties (= 0.98.9.2)

manage the repositories that you install software from

manage the repositories that you install software from (common)

dep:

ubuntu-drivers-common (>= 1:0.2.75)

Paket nicht verfügbar
rec:

gnome-keyring

Paket nicht verfügbar

rec:

gnome-session-bin

Paket nicht verfügbar

oder xfce4-session

Paket nicht verfügbar

oder mate-session-manager

Paket nicht verfügbar
software-properties-gtk herunterladen
Download für alle verfügbaren Architekturen

| Architektur | Paketgröße | Größe (installiert) | Dateien |
| --- | --- | --- | --- |
| all | 62,5 kB | 445 kB | [Liste der Dateien] |