Package: vlc-plugin-fluidsynth (3.0.8-0ubuntu18.04.1)
Links for vlc-plugin-fluidsynth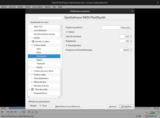 Trisquel Resources:
Download Source Package vlc:
Maintainer:
Original Maintainers:
External Resources:
Similar packages:
FluidSynth plugin for VLC
VLC is the VideoLAN project's media player. It plays MPEG, MPEG-2, MPEG-4, DivX, MOV, WMV, QuickTime, WebM, FLAC, MP3, Ogg/Vorbis files, DVDs, VCDs, podcasts, and multimedia streams from various network sources.
This plugin adds support for playing MIDI file via the FluidSynth software synthesizer to the VLC media player.
Other Packages Related to vlc-plugin-fluidsynth
dep:

fluid-soundfont-gm

Package not available

or timgm6mb-soundfont

Package not available

dep:

libc6 (>= 2.27)

GNU C Library: Shared libraries
also a virtual package provided by libc6-udeb

dep:

libfluidsynth1 (>= 1.1.6-4~)

Package not available

dep:

libvlccore9 (>= 3.0.8)

base library for VLC and its modules

virtual package provided by libvlccore9
enh:

vlc

multimedia player and streamer
Download vlc-plugin-fluidsynth