Paketti: mumble-server (1.3.4-1+10.0trisquel3)
Links for mumble-server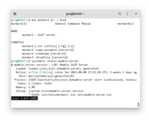 Trisquel-palvelut:
Imuroi lähdekoodipaketti mumble:
Ylläpitäjä:
Original Maintainer:
External Resources:
Samankaltaisia paketteja:
Low latency encrypted VoIP server
Murmur is the VoIP server component for Mumble. Murmur is installed in a system-wide fashion, but can also be run by individual users. Each murmur process supports multiple virtual servers, each with their own user base and channel list.
Muut pakettiin mumble-server liittyvät paketit