Paketti: umbrello (4:22.08.1-0xneon+20.04+focal+release+build55+10.0trisquel0)
Links for umbrello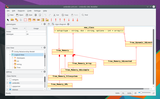 Trisquel-palvelut:
Imuroi lähdekoodipaketti umbrello:
Ylläpitäjä:
Original Maintainers:
Neon CI
Sune Vuorela
Modestas Vainius
George Kiagiadakis
Maximiliano Curia
External Resources:
Samankaltaisia paketteja:
UML modelling tool and code generator
Umbrello UML Modeller is a Unified Modelling Language diagram editor for KDE. It can create diagrams of software and other systems in the industry-standard UML format, and can also generate code from UML diagrams in a variety of programming languages.
This package is part of the KDE Software Development Kit module.
Muut pakettiin umbrello liittyvät paketit