Paketti: apport-gtk (2.20.11-0ubuntu27.24)
Links for apport-gtk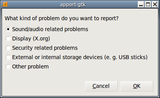 Trisquel-palvelut:
Imuroi lähdekoodipaketti apport:
Ylläpitäjä:
Original Maintainer:
External Resources:
Samankaltaisia paketteja:
GTK+ frontend for the apport crash report system
apport automatically collects data from crashed processes and compiles a problem report in /var/crash/. This utilizes the crashdump helper hook provided by the Ubuntu kernel.
This package provides a GTK+ frontend for browsing and handling the crash reports.
Muut pakettiin apport-gtk liittyvät paketit
dep:

apport (>= 0.41)

automatically generate crash reports for debugging

dep:

gir1.2-gtk-3.0 (>= 3.1.90)

Paketti ei saatavilla

dep:

gir1.2-wnck-3.0

Paketti ei saatavilla

dep:

gnome-terminal

Paketti ei saatavilla
näennäispaketti, jonka toteuttaa xterm

dep:

procps

Paketti ei saatavilla

dep:

python3

Paketti ei saatavilla

dep:

python3-apport (>= 2.20.11-0ubuntu27.24)

Python 3 library for Apport crash report handling

dep:

python3-gi

Paketti ei saatavilla

dep:

whoopsie-preferences

Paketti ei saatavilla
rec:

gdb

Paketti ei saatavilla

tai gdb-minimal

Paketti ei saatavilla

rec:

update-notifier

Paketti ei saatavilla
Imuroi apport-gtk
Imurointi kaikille saataville arkkitehtuureille

| Arkkitehtuuri | Paketin koko | Koko asennettuna | Tiedostot |
| --- | --- | --- | --- |
| all | 9.5 kt | 201 kt | [tiedostoluettelo] |