Paketti: vim-athena (2:8.1.2269-1ubuntu5.9)
Links for vim-athena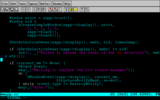 Trisquel-palvelut:
Imuroi lähdekoodipaketti vim:
Ylläpitäjä:
Original Maintainers:
External Resources:
Samankaltaisia paketteja:
Vi IMproved - enhanced vi editor - with Athena GUI
Vim is an almost compatible version of the UNIX editor Vi.
Many new features have been added: multi level undo, syntax highlighting, command line history, on-line help, filename completion, block operations, folding, Unicode support, etc.
This package contains a version of vim compiled with a Athena GUI and support for scripting with Lua, Perl, Python 3, Ruby, and Tcl.
Muut pakettiin vim-athena liittyvät paketit
dep:

libacl1 (>= 2.2.23)

Paketti ei saatavilla

dep:

libc6 (>= 2.29)

GNU C Library: Shared libraries
myös näennäispaketti, jonka toteuttaa libc6-udeb

dep:

libcanberra0 (>= 0.2)

Paketti ei saatavilla

dep:

libgpm2 (>= 1.20.7)

Paketti ei saatavilla

dep:

libice6 (>= 1:1.0.0)

Paketti ei saatavilla

dep:

liblua5.2-0

Paketti ei saatavilla

dep:

libperl5.30 (>= 5.30.0)

shared Perl library

dep:

libpython3.8 (>= 3.8.2)

Shared Python runtime library (version 3.8)

dep:

libruby2.7 (>= 2.7.0) [amd64]

Libraries necessary to run Ruby 2.7

dep:

libruby2.7 (>= 2.7.0~preview2) [armhf]

dep:

libselinux1 (>= 1.32)

Paketti ei saatavilla

dep:

libsm6

Paketti ei saatavilla

dep:

libtcl8.6 (>= 8.6.0)

Paketti ei saatavilla

dep:

libtinfo6 (>= 6)

Paketti ei saatavilla

dep:

libx11-6

X11 client-side library

dep:

libxaw7

Paketti ei saatavilla

dep:

libxmu6

Paketti ei saatavilla

dep:

libxpm4

Paketti ei saatavilla

dep:

libxt6

Paketti ei saatavilla

dep:

vim-common (= 2:8.1.2269-1ubuntu5.9)

Vi IMproved - Common files

dep:

vim-gui-common (= 2:8.1.2269-1ubuntu5.9)

Vi IMproved - Common GUI files

dep:

vim-runtime (= 2:8.1.2269-1ubuntu5.9)

Vi IMproved - Runtime files
sug:

cscope

Paketti ei saatavilla

sug:

vim-doc

Vi IMproved - HTML documentation