Paketti: eom (1.24.0-1+10.0trisquel0)
Links for eom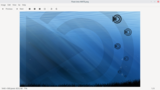 Trisquel-palvelut:
Imuroi lähdekoodipaketti eom:
Ylläpitäjä:
Original Maintainers:
External Resources:
Samankaltaisia paketteja:
Eye of MATE graphics viewer program
eom or the Eye of MATE is a simple graphics viewer for the MATE desktop which uses the gdk-pixbuf library. It can deal with large images, and zoom and scroll with constant memory usage. Its goals are simplicity and standards compliance.
Muut pakettiin eom liittyvät paketit