Paketti: gwenview (4:19.12.3-0ubuntu2+10.0trisquel1)
Links for gwenview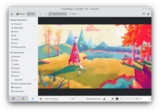 Trisquel-palvelut:
Imuroi lähdekoodipaketti gwenview:
Ylläpitäjä:
Original Maintainers:
External Resources:
Samankaltaisia paketteja:
image viewer
Gwenview is an image viewer, ideal for browsing and displaying a collection of images. It is capable of showing images in a full-screen slideshow view and making simple adjustments, such as rotating or cropping images.
This package is part of the KDE graphics module.
Muut pakettiin gwenview liittyvät paketit
rec:

kamera

digital camera support for KDE applications

rec:

kio-extras

Extra functionality for kioslaves.

Qt 5 Image Formats module