Paketti: xfce4-pulseaudio-plugin (0.4.3-0ubuntu1)
Links for xfce4-pulseaudio-plugin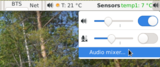 Trisquel-palvelut:
Imuroi lähdekoodipaketti xfce4-pulseaudio-plugin:
Ylläpitäjä:
Original Maintainers:
External Resources:
Samankaltaisia paketteja:
Xfce4 panel plugin to control pulseaudio
Xfce4 panel plugin icon to control Pulseaudio. You can use this applet to control your Pulseaudio volume levels with the media keys or using the scrollwheel. You can also open a Pulseaudio mixer via the plugin.
Muut pakettiin xfce4-pulseaudio-plugin liittyvät paketit
Imuroi xfce4-pulseaudio-plugin
Imurointi kaikille saataville arkkitehtuureille

| Arkkitehtuuri | Paketin koko | Koko asennettuna | Tiedostot |
| --- | --- | --- | --- |
| amd64 | 84.5 kt | 531 kt | [tiedostoluettelo] |