Paquet : fdclone (3.01j-1)
Liens pour fdclone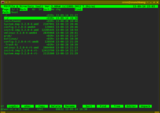 Ressources Trisquel :
Télécharger le paquet source fdclone :
Responsable :
Original Maintainer:
Elías Alejandro Año Mendoza
Ressources externes :
Paquets similaires :
console-base lightweight file manager
FD (FD represents "File and Directory") is an easy-to-use file management tool for Un*x newbies. As its name shows, this is a rewrite from scratch - the original version was written by Atsushi Idei for MS-DOS(tm) and once very popular in Japan. Messages are available either in English or in Japanese.
Autres paquets associés à fdclone
dep:

libc6 (>= 2.28)

GNU C Library: Shared libraries
un paquet virtuel est également fourni par libc6-udeb

dep:

libtinfo6 (>= 6)

shared low-level terminfo library for terminal handling