[ Paquet source :
unzip
]
Paquet : unzip (6.0-21ubuntu1.2+9.0trisquel1)
Liens pour unzip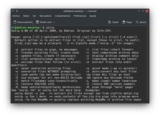 Ressources Trisquel :
Télécharger le paquet source unzip :
Responsable :
Original Maintainer:
Ressources externes :
Paquets similaires :
De-archiver for .zip files
InfoZIP's unzip program. With the exception of multi-volume archives (ie, .ZIP files that are split across several disks using PKZIP's /& option), this can handle any file produced either by PKZIP, or the corresponding InfoZIP zip program.
This version supports encryption.
Autres paquets associés à unzip
dep:

libbz2-1.0

high-quality block-sorting file compressor library - runtime

dep:

libc6 (>= 2.14) [amd64]

GNU C Library: Shared libraries
un paquet virtuel est également fourni par libc6-udeb

dep:

libc6 (>= 2.4) [i386]
sug:

zip

Archiver for .zip files