Paquet : ufw (0.35-5)
Liens pour ufw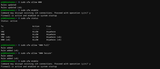 Ressources Trisquel :
Télécharger le paquet source ufw :
Responsable :
Original Maintainer:
Ressources externes :
Paquets similaires :
program for managing a Netfilter firewall
The Uncomplicated FireWall is a front-end for iptables, to make managing a Netfilter firewall easier. It provides a command line interface with syntax similar to OpenBSD's Packet Filter. It is particularly well-suited as a host-based firewall.
Autres paquets associés à ufw
sug:

rsyslog

reliable system and kernel logging daemon
Télécharger ufw
Télécharger pour toutes les architectures proposées

| Architecture | Taille du paquet | Espace occupé une fois installé | Fichiers |
| --- | --- | --- | --- |
| all | 143,7 ko | 818 ko | [liste des fichiers] |