Paquet : gorm.app (1.2.24-1build1)
Liens pour gorm.app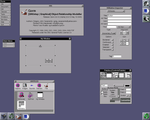 Ressources Trisquel :
Télécharger le paquet source gorm.app :
Responsable :
Original Maintainers:
Ressources externes :
Paquets similaires :
Visual Interface Builder for GNUstep
Gorm, the GNUstep Object Relationship Modeler, is a tool to build GUI interfaces for the GNUstep system. It is a clone of the NeXTStep "Interface Builder" app. It works well with ProjectCenter to create GUI applications for GNUstep.
You can create .nib files that also work on macOS and vice versa.
Autres paquets associés à gorm.app