Paquet : gworkspace.app (0.9.4-2)
Liens pour gworkspace.app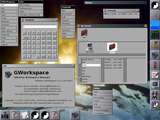 Ressources Trisquel :
Télécharger le paquet source gworkspace :
Responsable :
Original Maintainers:
Ressources externes :
Paquets similaires :
GNUstep Workspace Manager
GWorkspace is the official GNUstep workspace manager. It is a clone of NeXT's workspace manager. GWorkspace is probably one of the most useful and usable workspace managers available on any platform, owing to its well-designed interface and the natural, consistent design that it inherits from the GNUstep framework.
Autres paquets associés à gworkspace.app
Application wrappers for GWorkspace
Télécharger gworkspace.app