Package: xnest (2:1.20.13-1ubuntu1~20.04.8)
Links for xnest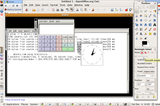 Trisquel Resources:
Download Source Package xorg-server:
Maintainer:
Original Maintainer:
External Resources:
Similar packages:
Nested X server
Xnest is a nested X server that simply relays all its requests to another X server, where it runs as a client. This means that it appears as another window in your current X session. Xnest relies upon its parent X server for font services.
Use of the Xephyr X server instead of Xnest is recommended.
More information about X.Org can be found at: <URL:https://www.x.org>
This package is built from the X.org xserver module.
Other Packages Related to xnest
dep:

libaudit1 (>= 1:2.2.1)

Package not available

dep:

libbsd0 (>= 0.7.0)

Package not available

dep:

libc6 (>= 2.29)

GNU C Library: Shared libraries
also a virtual package provided by libc6-udeb

dep:

libgcrypt20 (>= 1.8.0)

LGPL Crypto library - runtime library

dep:

libpixman-1-0 (>= 0.13.2)

pixel-manipulation library for X and cairo

dep:

libselinux1 (>= 2.0.82)

Package not available

dep:

libsystemd0

systemd utility library

dep:

libunwind8

Package not available

dep:

libx11-6

X11 client-side library

dep:

libxau6

Package not available

dep:

libxdmcp6

Package not available

dep:

libxext6

Package not available

dep:

libxfont2 (>= 1:2.0.1)

Package not available

dep:

xserver-common (>= 2:1.20.13-1ubuntu1~20.04.8)

common files used by various X servers
rec:

libgl1-mesa-dri (>= 7.1~rc1)

free implementation of the OpenGL API -- DRI modules