Pakket: literki (0.0.0+20100113.git1da40724-1.2ubuntu1)
Verwijzigingen voor literki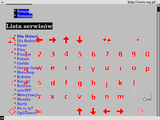 Trisquel bronnen:
Het bronpakket literki downloaden:
Beheerder:
Original Maintainers:
Externe bronnen:
Vergelijkbare pakketten:
Keyboard with configurable layout and transparency
Literki is a full qwerty keyboard with configurable layout and always-on functionality by usage of transparency. Applications do not need to redraw and popping up the keyboard is therefore very fast.
In addition to keyboard, literki comes with touchpad and scroll buttons.
Andere aan literki gerelateerde pakketten