Пакет: gramps (5.1.5-1~bpo20.04.1)
Ссылки для gramps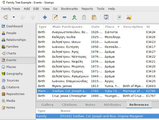 Ресурсы Trisquel:
Исходный код gramps:
Сопровождающий:
Original Maintainer:
Внешние ресурсы:
Сайт [www.gramps-project.org]
Подобные пакеты:
Genealogical research program
Gramps is an Open Source genealogy program written in Python, using the GTK/GNOME interface. It is an extremely flexible program fitting the needs for both the amateur genealogist and serious genealogical researcher. Gramps has the ability to import GEDCOM files exported from many proprietary genealogy programs and can produce a large number of reports in many popular formats.
Другие пакеты, относящиеся к gramps
Загрузка gramps
Загрузить для всех доступных архитектур

| Архитектура | Размер пакета | В установленном виде | Файлы |
| --- | --- | --- | --- |
| all | 6 462,7 Кб | 44101 Кб | [список файлов] |