Пакет: xfce4-pulseaudio-plugin (0.4.3-0ubuntu1)
Ссылки для xfce4-pulseaudio-plugin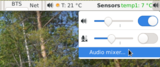 Ресурсы Trisquel:
Исходный код xfce4-pulseaudio-plugin:
Сопровождающий:
Original Maintainers:
Внешние ресурсы:
Подобные пакеты:
Xfce4 panel plugin to control pulseaudio
Xfce4 panel plugin icon to control Pulseaudio. You can use this applet to control your Pulseaudio volume levels with the media keys or using the scrollwheel. You can also open a Pulseaudio mixer via the plugin.
Другие пакеты, относящиеся к xfce4-pulseaudio-plugin
Загрузка xfce4-pulseaudio-plugin