Пакунок: guile-2.0 (2.0.13+1-5ubuntu0.1)
Links for guile-2.0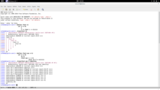 Trisquel Resources:
Download Source Package guile-2.0:
Maintainer:
Original Maintainer:
External Resources:
Similar packages:
GNU extension language and Scheme interpreter
Guile is a Scheme implementation designed for real world programming, providing a rich Unix interface, a module system, an interpreter, and many extension languages. Guile can be used as a standard #! style interpreter, via #!/usr/bin/guile, or as an extension language for other applications via libguile.
Інші пакунки пов'язані з guile-2.0