Пакунок: mplayer-gui (2:1.3.0-7ubuntu0.2+9.0trisquel1)
Links for mplayer-gui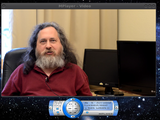 Trisquel Resources:
Download Source Package mplayer:
Maintainer:
Original Maintainers:
External Resources:
Similar packages:
movie player for Unix-like systems (GUI variant)
MPlayer plays most MPEG, VOB, AVI, Ogg/OGM, VIVO, ASF/WMA/WMV, QT/MOV/MP4, FLI, RM, NuppelVideo, yuv4mpeg, FILM, RoQ, PVA files, supported by many native, XAnim, RealPlayer, and Win32 DLL codecs. It can also play VideoCD, SVCD, DVD, 3ivx, RealMedia, and DivX movies.
Another big feature of MPlayer is the wide range of supported output drivers. It works with X11, Xv, DGA, OpenGL, SVGAlib, fbdev, DirectFB, but also SDL.
This package includes the GUI variant of MPlayer.
Інші пакунки пов'язані з mplayer-gui
Завантажити mplayer-gui
Завантаження для всіх доступних архітектур

| Архітектура | Розмір пакунка | Розмір після встановлення | Файли |
| --- | --- | --- | --- |
| amd64 | 1,241.8 kB | 4716 kB | [список файлів] |
| i386 | 1,209.4 kB | 4021 kB | [список файлів] |