Пакунок: redis-tools (5:5.0.7-2ubuntu0.1)
Links for redis-tools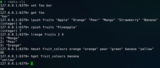 Trisquel Resources:
Download Source Package redis:
Maintainer:
Original Maintainer:
External Resources:
Similar packages:
Persistent key-value database with network interface (client)
Redis is a key-value database in a similar vein to memcache but the dataset is non-volatile. Redis additionally provides native support for atomically manipulating and querying data structures such as lists and sets.
This package contains the command line client and other tools.
Інші пакунки пов'язані з redis-tools
dep:

adduser

Пакунок недоступний

dep:

libatomic1 (>= 4.8)

support library providing __atomic built-in functions

dep:

libc6 (>= 2.29)

GNU C Library: Shared libraries
also a virtual package provided by libc6-udeb

dep:

libgcc-s1 (>= 3.5) [armhf]

GCC support library

dep:

libhiredis0.14 (>= 0.14.0)

Пакунок недоступний

dep:

libjemalloc2 (>= 2.1.1) [amd64]

Пакунок недоступний

dep:

liblua5.1-0

Пакунок недоступний

dep:

lua-bitop

Пакунок недоступний

dep:

lua-cjson

Пакунок недоступний
sug:

ruby-redis

Пакунок недоступний