Пакунок: gnome-boxes (3.36.3-0ubuntu1.1)
Links for gnome-boxes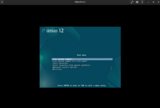 Trisquel Resources:
Download Source Package gnome-boxes:
Maintainer:
Original Maintainers:
External Resources:
Similar packages:
Simple GNOME app to access remote or virtual systems
GNOME Boxes is a desktop client to view or use local virtual machines, remote physical machines, or remote virtual machines. Boxes is intentionally simple and easy to use.
Hardware virtualization is required to use local virtual machines.
Інші пакунки пов'язані з gnome-boxes
dep:

dconf-gsettings-backend

Пакунок недоступний

or gsettings-backend

Пакунок недоступний

dep:

genisoimage

Пакунок недоступний

dep:

libarchive13 (>= 3.1.2)

Multi-format archive and compression library (shared library)

dep:

libc6 (>= 2.7)

GNU C Library: Shared libraries
also a virtual package provided by libc6-udeb

dep:

libcairo2 (>= 1.6.0)

Пакунок недоступний

dep:

libfreerdp2-2 (>= 2.0.0~git20160317.1.75ae3f5+dfsg1)

Free Remote Desktop Protocol library (core library)

dep:

libgdk-pixbuf2.0-0 (>= 2.25.2)

GDK Pixbuf library

dep:

libglib2.0-0 (>= 2.52.0)

GLib library of C routines

dep:

libgtk-3-0 (>= 3.22.20)

Пакунок недоступний

dep:

libgtk-vnc-2.0-0 (>= 0.5.1)

Пакунок недоступний

dep:

libgudev-1.0-0 (>= 165)

Пакунок недоступний

dep:

libosinfo-1.0-0 (>= 1.7.1~)

Пакунок недоступний

dep:

libosinfo-bin

Пакунок недоступний

dep:

libpango-1.0-0 (>= 1.14.0)

Пакунок недоступний

dep:

libsecret-1-0 (>= 0.7)

Пакунок недоступний

dep:

libsoup2.4-1 (>= 2.44)

Пакунок недоступний

dep:

libspice-client-glib-2.0-8 (>= 0.35)

Пакунок недоступний

dep:

libspice-client-gtk-3.0-5 (>= 0.32)

Пакунок недоступний

dep:

libtracker-sparql-2.0-0 (>= 0.10.0)

Пакунок недоступний

dep:

libusb-1.0-0 (>= 2:1.0.8)

Пакунок недоступний

dep:

libvirt-daemon

Virtualization daemon

dep:

libvirt-glib-1.0-0 (>= 3.0.0)

Пакунок недоступний

dep:

libvte-2.91-0 (>= 0.40.2)

Пакунок недоступний

dep:

libwebkit2gtk-4.0-37 (>= 2.15.90)

Web content engine library for GTK

dep:

libwinpr2-2 (>= 2.0.0~git20160317.1.75ae3f5+dfsg1)

Windows Portable Runtime library

dep:

libxml2 (>= 2.7.8)

GNOME XML library

dep:

tracker (>= 2.0)

Пакунок недоступний