软件包: teeworlds (0.7.2-5ubuntu1.1)
teeworlds 的相关链接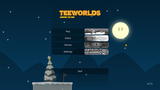 Trisquel 的资源:
下载源码包 teeworlds:
维护者:
Original Maintainers:
外部的资源:
相似软件包:
online multi-player platform 2D shooter
This package contains the client binary for Teeworlds.
The game features cartoon-themed graphics and physics, and relies heavily on classic shooter weaponry and gameplay. The controls are heavily inspired by the FPS genre of computer games.
其他与 teeworlds 有关的软件包
dep:

libc6 (>= 2.29)

GNU C Library: Shared libraries
同时作为一个虚包由这些包填实: libc6-udeb

dep:

libfreetype6 (>= 2.2.1)

FreeType 2 font engine, shared library files

dep:

libgcc-s1 (>= 3.5) [armhf]

GCC support library

dep:

libgl1

Vendor neutral GL dispatch library -- legacy GL support

dep:

libglu1-mesa

软件包暂时不可用

或者 libglu1

软件包暂时不可用

dep:

libpnglite0 (>= 0.1.17)

软件包暂时不可用

dep:

libsdl2-2.0-0 (>= 2.0.10)

软件包暂时不可用

dep:

libstdc++6 (>= 5)

GNU Standard C++ Library v3

dep:

libwavpack1 (>= 4.40.0)

audio codec (lossy and lossless) - library

dep:

teeworlds-data (= 0.7.2-5ubuntu1.1)

data for Teeworlds; an online multi-player platform 2D shooter

dep:

zlib1g (>= 1:1.2.0)

compression library - runtime