Пакет: libc6 (2.35-0ubuntu3.1+11.0trisquel1 и други)
Връзки за libc6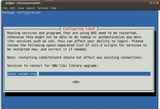 Ресурси за Trisquel:
Изтегляне на пакет-източник glibc.
Отговорник:
Original Maintainers:
Външни препратки:
Подобни пакети:
GNU C Library: Shared libraries
Contains the standard libraries that are used by nearly all programs on the system. This package includes shared versions of the standard C library and the standard math library, as well as many others.
Пакети, предлагащи libc6
GNU C Library: Shared libraries - udeb
Други пакети, свързани с libc6
rec:

libidn2-0 (>= 2.0.5~)

Internationalized domain names (IDNA2008/TR46) library

rec:

libnss-nis

NSS module for using NIS as a naming service

rec:

libnss-nisplus

NSS module for using NIS+ as a naming service