Пакет: mediathekview (13.0.6-3~18.04)
Връзки за mediathekview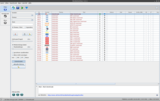 Ресурси за Trisquel:
Изтегляне на пакет-източник mediathekview.
Отговорник:
Original Maintainer:
Външни препратки:
Подобни пакети:
view streams from German public television stations
This application searches for various media center video content of the German television program (ARD, ZDF, Arte, 3Sat, MDR, ORF, SRF and many more). You can watch, download and even subscribe to an offered show.
Други пакети, свързани с mediathekview
sug:

ffmpeg

Tools for transcoding, streaming and playing of multimedia files
Изтегляне на mediathekview
Изтегляне за всички налични архитектури

| Архитектура | Големина на пакета | Големина след инсталиране | Файлове |
| --- | --- | --- | --- |
| all | 2 885,1 кБ | 3963 кБ | [списък на файловете] |