Pakiet: xfce4-pulseaudio-plugin (0.4.3-0ubuntu1)
Odnośniki dla xfce4-pulseaudio-plugin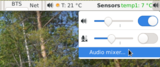 Zasoby systemu Trisquel:
Pobieranie pakietu źródłowego xfce4-pulseaudio-plugin:
Opiekun:
Original Maintainers:
Zasoby zewnętrzne:
Podobne pakiety:
Xfce4 panel plugin to control pulseaudio
Xfce4 panel plugin icon to control Pulseaudio. You can use this applet to control your Pulseaudio volume levels with the media keys or using the scrollwheel. You can also open a Pulseaudio mixer via the plugin.
Inne pakiety związane z xfce4-pulseaudio-plugin
Pobieranie xfce4-pulseaudio-plugin
Pobierz dla wszystkich dostępnych architektur

| Architektura | Rozmiar pakietu | Rozmiar po instalacji | Pliki |
| --- | --- | --- | --- |
| amd64 | 84,5 KiB | 531 KiB | [lista plików] |
| armhf | 78,6 KiB | 478 KiB | [lista plików] |